Threos helps women to take ownership of their health and feel safe and comfortable getting the care they deserve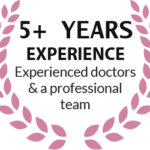 Threos Standards
Our core values are excellence, compassion, respect, delivery, learning and improvement. We aim to provide excellent care with compassion and respect. We will do this by:

Taking pride in the quality of care we provide.

Putting patients at the heart of what we do and recognising different needs.

Encouraging a spirit of support, respect and teamwork.

Ensuring that we act with integrity.

Going the extra mile and following through on our commitments.

Encouraging a spirit of support, respect and teamworkWe aim to deliver, learn and continuously improve. We will do this by:

Delivering high standards of PCOS healthcare based on national and international comparisons.

Striving to improve on what we do through change and innovation.

Monitoring and assessing our performance.

E-learning from successes and setbacks.

Adopting the best clinical research in patient care
Frustrated that your PCOS symptoms are back again? You're not alone.
83%
PCOS patients say their symptoms come back when they stop taking pills.
Upto 5 years
Wasted on failed PCOS treatments. No worries, We are there to help you.
3 to 7 times
Higher likelihood of diabetes and miscarriages, the longer you wait.